Tsarnaev trial discussion with William Weinreb '89, Counselor to the U.S. Attorney and former Acting U.S. Attorney
You're invited to join HLSA of MA for an evening with Counselor to the U.S. Attorney and former Acting U.S. Attorney William Weinreb '89, who was the lead prosecutor in the Dzhokhar Tsarnaev trial and will discuss that historic case.

Enjoy refreshments with fellow alumni from 5:30-6:00. Attorney Weinreb will speak from 6:00-6:30, followed by Q&A and an opportunity for futher networking.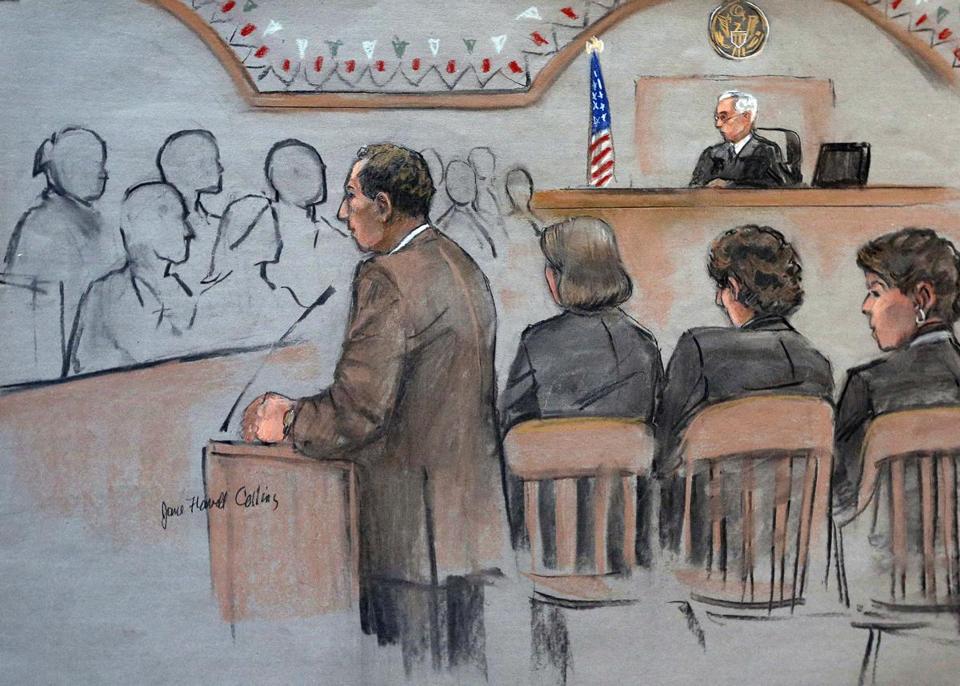 Refreshments are courtesy of:

Sullivan & Worcester is on the 21st Floor of One Post Office Square; please bring ID for building security. The garage at Post Office Square (under the park) offers $9 evening parking, and the garage at One Post Office square offers $10 evening parking. The building is also easily accessible via public transportation - Downton Crossing (red and orange lines) and State Street (blue and orange lines).
We hope to see you there!

January 24, 2018
When:
5:30PM - 7:00PM Wed 24 Jan 2018 ( Timezone: Eastern )

Where:
Sullivan & Worcester
One Post Office Square 21st Floor
Boston, MA 02109
[ Get Directions ]
RSVP Here...
Look Who's Coming:
Erika Todd
Sullivan & Worcester
Edward Wiest
Edward R. Wiest, PC
Matthew Spurlock
CPCS
Minal Caron
Ropes and Gray
Christopher Mirick
Harvest Power, Inc.
Jason Tucker
Putnam Investments
Van Lanckton
HLS Alum class of 1967
Gene Blumenreich
David Curtis
HLSA
Susannah Tobin
Harvard Law School
Stephen Hassink
DLA Piper
Lauren Milgroom
Foley Hoag
Alexis Wansac
Law school
Adam Holmes
Harvard Law School
Jeffrey Purcell
Greater Boston legal services
Jonathan Korn
Elizabeth Mayo
WilmerHale
Sarah Cannon Holden
HLS 89
Lexie Rueckle Reynolds
Valerie Yarashus and Matt McGuinness
Meehan Boyle
Ellie Stoller
Deloitte
Marina Shkuratov
Harvard Law School
Marie Lefton
Lefton Consulting
Arthur Young
US Trust / Bank of America
John Harding
Lewis Brisbois LLP
Michael Savitz
Intrinsic Law Corp.
Kristi Jobson
Ropes & Gray LLP
Josh Sharp

Sarah Blankstein
Vertex Pharmaceuticals
Nicholas Raskin
Harvard Law School
Karen Green
Superior court
Benjamin Sacks
Proskauer Rose LLP
Kristyn DeFilipp
Foley Hoag LLP
Michael Albert
Wolf Greenfield
Laura Miller
Sullivan & Worcester
Cathy Mondell
Courtney Caruso
Hogan Lovells
Barry White
Foley Hoag LLP
Timothy Moran
U.S. Attorney's Office
Paul Decker
Sullivan & Worcester
Linda Liu
Ropes & Gray LLP
Venice Monagan
Putnam Investmets
David Wittenberg
Suffolk County District Attorney's Office
Zoe Klein
Harvard Medical School
Elizabeth Soltan
Harvard Law School
Rebecca Leventhal
HLS
Jenny Chan
Harvard Law School
Jonathan Korn
HLS
Shirley Chan
Harvard Law School
alvin glazerman
retired
Michael Hoven
Foley Hoag
John Snyder
Potomac Law Group, PLLC
Bob Ruxin
B.U.Questrom School
Caleb Weinreb
Harvard Medical School
Julia Stoller
HLS
Jodie Cohen-Tanugi
none
Dick Ransom
Retired
Charles Smiler
Captain Haskell's
David Nagle
Sullivan & Worcester LLP
James Farmer
U.S. Attorney's Office
STEPHEN HASSINK
... a total of 62 guests.
Note: to opt out from this list please sign in, go to My Account and change your preferences under My RSVPs.