2018 Highlights to date...
In January, we held a talk with Counselor to the U.S. Attorney and former Acting U.S. Attorney William Weinreb '89, who was the lead prosecutor in the Dzhokar Tsarvaev trial and spoke on that historic case and his career in the U.S. Attorney's office.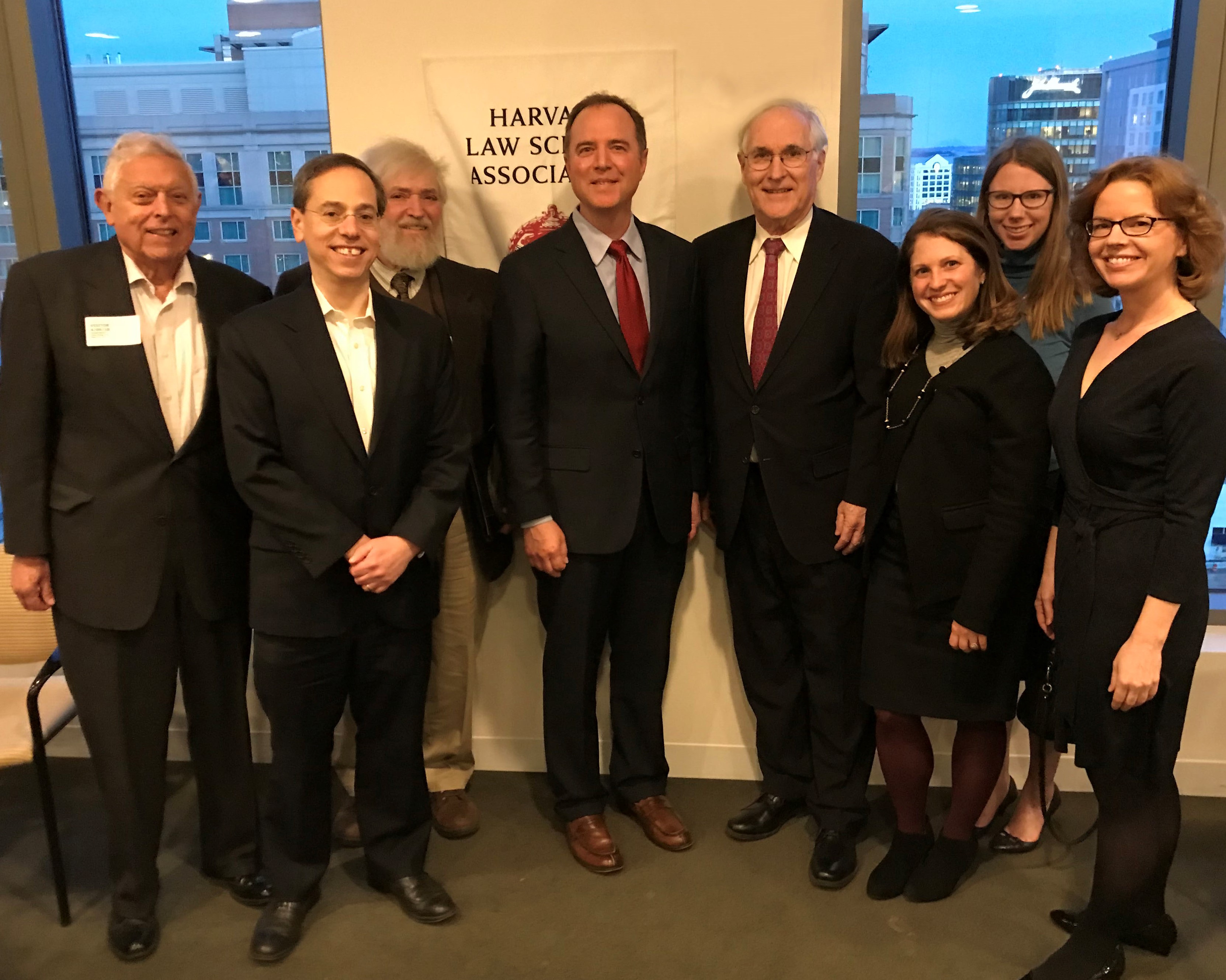 In April, we hosted an evening with Representative Adam Schiff, who represents the 29th Congressional District of California, and is the ranking member of the House Select Committee on Intelligence. Representative Schiff, HLS '85, has brought his background as a prosecutor to the Select Committee's investigation of Russian interference in the 2016 U.S. presidential election. At our April event, Representative Schiff spoke on a variety of subjects, including national security and the global threat to our democracy, and took questions from the audience of more than 100 alumni and guests. We were thrilled to offer this unique opportunity for our alumni to gain a perspective on what is currently happening in Washington, DC and around the country, and thank our Board members (pictured here) who assisted in organizing the event, particularly Barry White, who helped to arrange the visit.

Also in April, we organized groups of alumni to serve as volunteer judges for the 1L Ames Moot Court competition. This annual tradition provides invaluable practitioner insights for current students and a chance for our members to re-connect with one another.

Our annual mentorship program returned this summer. Thanks to an enthusiastic response from local alumni, we were able to introduce more than 90 HLS students and new graduates to mentors with shared professional interests. We celebrated with a kick-off reception at Carrie Nation in June.

We are also starting a series of discussion groups that will allow small groups of alumni to meet on a regular basis.

Throughout the year, we continue to arrange informal events for local alumni, and welcome your suggestions. If you are interested in joining the Board, or would simply like to offer suggestions, please email Barry White (bbwhite7@yahoo.com) –– we look forward to hearing from you!